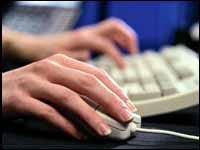 We want you to feel confident in the processes we employ to get your projects done. So we make every attempt to educate you about our business. We've collected several resources and have posted them here to help you feel comfortable about speaking our language. The links to the right are explained a bit here. Feel free to browse through our FAQs, glossaries, helpful hints about completing projects, marketing ideas, downloadable software archives, and application tips and tricks. If you think of anything we've left out, please let us know.
For commonly ask "Questions & Answers" like:
• How long does it take for you to complete my order?
• Submitting Art and want to know what formats we accept and how to prepare the files?
• Statement of Use and Warranty Information
• What is a "proof"?
• Why do I need to look at a proof if I've already given you everything I need to have done?
• Do I still need to approve a proof if I send the file or bring my work in on disk?
• How do I go about getting an estimate from you?
The "Glossary of Terms" is just that.
Every industry comes with its own language.
The "Quick Reference" has suggestions for:
• Graphic Design
• Marketing
• Quick Tips
• Tech Tips
• Software Downloads